Course: New Jersey Ornamental Horticulture Symposium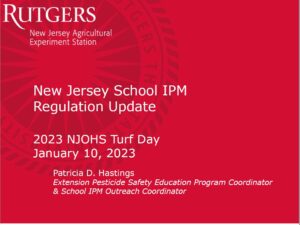 Date: January 10, 2023
Topic: New Jersey School IPM Regulation Update
SLIDES:
Course: School IPM Coordinators: Making the Plan Work
The purpose of this training is to facilitate implementation of the requirements of New Jersey's School IPM law by School IPM coordinators and other involved personnel. Attendance at this session by a School IPM Coordinator fulfills their training requirement per the regulations. Each attendee will receive a certificate of attendance. Pesticide credits for applicators will be issued as well.
This course is sponsored by the NJ Association of Designated Persons. Invited speakers include specialists from the N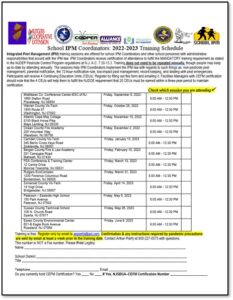 ew Jersey Department of Environmental Protection, Rutgers New Jersey Agricultural Experiment Station (NJAES) Cooperative Extension, and private firms.
Session Highlights:
Topics to be included are: notification requirements; the 72-hour notification rules; low-impact pesticides; record keeping; and dealing with pest emergencies.
Who Should Attend: School IPM Coordinators; School Superintendents; School Principals; Facility Directors; and Buildings and Grounds Officials.
Course Information: See School IPM Coordinator Registration 2022-2023 If you have any questions about the trainings, please contact Art Pierfy 908-227-0575 or email him at anpierfy@aol.com.
Fee: There is no fee. Registration is free but limited and is on a first-come first- served basis.
New Jersey Commercial Applicators are eligible to receive recertification credit for attendance at this course.
---
Basic Landscape Integrated Pest Management (IPM) Course
ONLINE COURSE/ Course Code: AL0434WA22
Rutgers NJAES Office of Continuing Professional Education
102 Ryders Lane; New Brunswick, NJ 08901-8591
Phone: (732) 932-9271; Fax: (732) 932-1187
Save time and money by learning Integrated Pest Management! Integrated Pest Management (or IPM) is a commonsense approach that reduces reliance on chemical pest controls. This half-day webinar will teach you a combination of strategies to predict, prevent, and manage insects and diseases. You'll learn about specific ornamental plants that are pest resistant, and you'll review the toxicities and contamination caused by some common landscape pesticides.
Continuing Education Units (CEUs) and/or NJDEP Certified Pesticide Applicator recertification credits are available for qualified participants.
---
Pesticide Applicator Licensing and Recertification
NJDEP Pesticide Control Program
Pesticide Applicator Certification & Licensing Program
Phone: (609) 984-5014; fax: (609) 984-6555
Website: https://www.state.nj.us/dep/enforcement/pcp/
Courses for NEW Pesticide Applicator Licensing
In order to take the certification exams to become licensed to use pesticides in NJ, an applicator applicant must satisfy PCP-approved training requirements for basic pesticide safety and on-the-job training for any categories that they wish to be licensed. Pesticide training specifically must provide an understanding of the principles of Integrated Pest Management. For more details, go to the Pesticide Applicator Training section of this website.
New Jersey licensed commercial pesticide applicators are required to maintain their certification by attending courses awarding recertification credits in CORE and the categories in which they wish to maintain certification and licensing. Specifically, commercial applicators must complete a total of 8 CORE and 16 'category' credits within five years beginning the first November following applicator certification. IPM concepts are covered with the category training; call the listed course moderator for details.
Recertification Course Schedules
The New Jersey Department of Environmental Protection (NJDEP) evaluates all recertification courses. Course topics offered for recertification credit include: Core (private or commercial certifications), PP2 for private certification, as well as each of the 13 commercial pest control categories. Recertification credits can be earned by either attending NJDEP-approved recertification courses, or by completing an NJDEP-approved online training module.
Numerous online CEU courses are available and the NJDEP reports that they continue to work directly with course providers to maintain an adequate number of online courses and CEUs while ensuring providers adhere to minimal online modality standards including student ID verification and class monitoring. For NJDEP's list of available online CEU courses and providers, please click HERE.