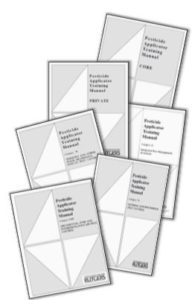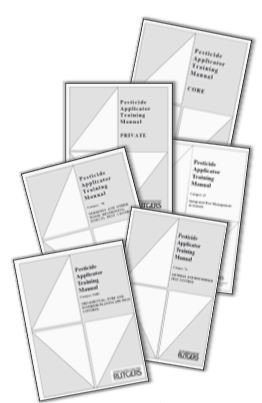 Preparation to take the required exams for pesticide applicator certification in New Jersey should include reading and studying the information contained in the training manual(s) specific to the type of certification desired. Private applicators need only the 'Private' manual; pesticide dealers need only the 'Dealer' manual; commercial applicators will need the 'Core' manual plus the corresponding manual for each of the commercial categor(ies) for which they desire certification.
The list of Pesticide Training Manuals for each of the exams is listed below. These manuals can be ordered online (effective 10/23/2019), OR obtained from your Rutgers New Jersey Agricultural Experiment Station County Cooperative Extension Office.
ORDER MANUALS ONLINE HERE. Clicking on this link will redirect you to a webpage (outside the Pest Management Office) hosted by the Rutgers Division of Continuing Studies where there is a full listing of all manuals for sale. Prior to purchase, you will be directed to set up an account. To return to the manual order, see the menu to the left and select "Product Search" to access a "Product Categories" webpage. Here you select "Pesticide Applicator Training Manuals" to to begin the online order process.
Manuals for all categories are also sold at 19 of twenty-one County Cooperative Extension offices. If you intend to pick up your manual(s) in person, be sure to call first and check manual availability as well as County office operational status (due to possible emergency closures due to COVID-19). Manuals are not sold at the Rutgers Cooperative Extension Hudson County office; Gloucester County reports that they limit their sales to Private manuals (4/2022).
If you you need assistance with locating a County office that carries the Pesticide Applicator Training Manuals or require assistance with online ordering, please contact our office at 848-932-9802.
The table below identifies each manual title with its corresponding Certified Pesticide Applicator number (CPA #). It also specifies the current revision date and cost (effective February 1, 2017) of each manual. These versions of the manuals contain information from which the Private, Dealer, and Commercial and twenty-seven separate commercial category certification exams are derived. So, verify that the print date of the manual that you are using to study for your exam(s) matches the date(s) in the table below.
Certification Type
Training Manual Title
CPA #
Revision Date
Cost
Each
Private Applicator
Private Applicator
PRIVATE
Oct 2013
20.00
Pesticide Dealer
Pesticide Dealer
DEALER
Nov 1994
25.00
Commercial Applicator
Core Pesticide Training
CORE
June 2009
40.00
commercial category
Plant Agricultural Pest Control
1A
Sept 2006
45.00
commercial category
Animal Agricultural Pest Control
1B
Mar 1999
25.00
commercial category
Forest Pest Control
2
Jan 2008
35.00
commercial category
Landscaping: Ornamentals, Turf & Interior Plantscape Pest Control
3ABC
Jan 2006
45.00
commercial category
Seed Treatment
4
Sept 1977
25.00
commercial category
Aquatic Pest Control
5
Oct 2011
25.00
commercial category
Right-of-Way Pest Control (plus NJ supplement, June 2015)
6
Aug 2012
45.00
commercial category
General & Household Pest Control
7A
June 2016
35.00
commercial category
Termites & Other Wood-destroying Insects Pest Control
7B
July 2014
35.00
commercial category
Fumigation Pest Control
7C
July 1997
20.00
commercial category
Food Manufacturing & Processing Pest Control
7D
Aug 1981
20.00
commercial category
Wood Preservation Pest Control
7E
Aug 1984
20.00
commercial category
Tri-Butyltin & Antifoulants Pest Control
7F
Mar 1991
20.00
commercial category
General Public Health Pest Control
8A
April 2019
20.00
commercial category
Mosquito Pest Control
8B
Jan 2010
35.00
commercial category
Campground Pest Control
8C
1979
20.00
commercial category
Cooling Tower Pest Control
8D
1989
20.00
commercial category
Sewer Line Pest Control
8E
Sept 1995
20.00
commercial category
Pet Groomer Pest Control
8F
1989
20.00
commercial category
Regulatory Pest Control
9
1987
20.00
commercial category
Demonstration & Research Pest Control
10
1985
20.00
commercial category
Aerial Application Pest Control
11
Dec 1995
20.00
commercial category
Antimicrobial/Swimming Pool & Ethylene Oxide Pest Control
12AB
Sep 1994
20.00
commercial category
Integrated Pest Management in Schools
13
May 2008
35.00