As required by EPA's Paraquat Dichloride Human Health Mitigation Decision and amended* paraquat dichloride (a.k.a. paraquat) product labels, certified applicators must successfully complete an EPA-approved training program before mixing, loading, and/or applying paraquat. The training provides important information about paraquat's toxicity, new label requirements and restrictions, and the consequences of misuse.
The use of paraquat, which is a restricted use pesticide, is restricted to certified pesticide applicators only; noncertified persons working under the supervision of a certified applicator are prohibited from using paraquat, including mixing, loading, applying the pesticide, and other pesticide-related activities.
Paraquat product labels require applicators to take an EPA-approved training every 3 years in order to mix, load, apply, or handle paraquat. This online course reinforces how to properly and safely use paraquat.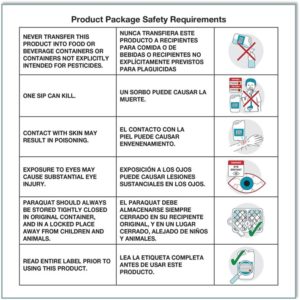 The EPA-approved training module can be accessed at http://www.usparaquattraining.com/. This training was developed by paraquat manufacturers as part of EPA's 2016 risk mitigation requirements and has been approved by EPA.
You should expect to spend about 60 minutes on the course and the assessment quiz. It includes videos, a narrative outline, and brief exercises so you can test your own comprehension.
You will receive a certificate of successful completion of the training when you correctly answer all quiz questions. There is no limit on the number of attempts you take to correctly answer all questions. Make sure to print the certificate, and keep it on file for inspection by inspectors.
For more details see, EPA's list of Frequently Asked Questions about the paraquat dichloride training.
*Always follow the directions found on the product label. If you will be using previously-purchased paraquat that does not have the amended label requirements, you would not be required to take the training. However, you must complete the training when using a product with the amended label requirements.