EPA first implemented the Federal Worker Protection Standard – CFR Title 40, Part 170 (WPS) regulations in 1994 to provide specific safety requirements for both general agricultural workers and pesticide handlers. The 1992 WPS regulations were revised on November 2, 2015. State regulations may differ, and when more stringent take precedence over federal regulations. The NJDEP Agricultural Worker Protection regulations [N.J.A.C. 7:30 Subchapter 12] were revised on April 6, 2020, and incorporate or exceed the revisions of the federal WPS.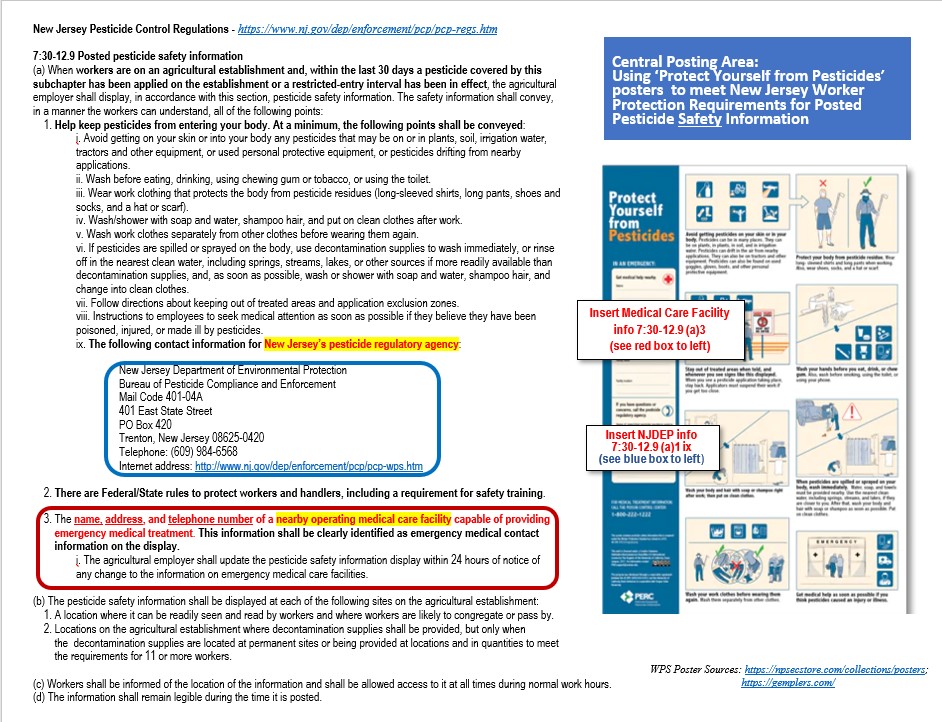 One of the basic requirements for providing information to farmworkers include displaying WPS-required pesticide safety information at a central location (and certain decontamination sites). Safety information may be displayed in any format, including a poster that meets the requirements. The Pesticide Education Resource Collaborative (PERC) developed for EPA a WPS safety information poster. The post WPS "Protect Yourself from Pesticides" Poster Now Available was posted to the PSEP blog on July 6, 2017; see https://pestmanagement.rutgers.edu/wps-protect-yourself-from-pesticides-poster-now-available/ for more details.
Rutgers PSEP distributed laminated Safety Posters to attendees at the NJAES Twilight Meetings during the 2022 growing season. Rutgers PSEP has developed a downloadable Pesticide Safety Poster Infographic using the the PERC WPS Pesticide Safety Poster as an example (see left). Download the infographic for yourself at: WPS Infographic NJAC 7 30 12.9 Poster use for posted pesticide safety information. Make sure to click it to open it. It includes an excerpt of the New Jersey pesticide regulations on posting of pesticide safety information showing where to insert NJDEP-required information on the Safety Poster.
NJDEP regulations require that posted safety information shall include:
Contact information for New Jersey's pesticide regulatory agency:
New Jersey Department of Environmental Protection
Bureau of Pesticide Compliance and Enforcement
Mail Code 401-04A
401 East State Street
PO Box 420
Trenton, New Jersey 08625-0420
Telephone: (609) 984-6568
Internet address: http://www.nj.gov/dep/enforcement/pcp/pcp-wps.htm
The name, address, and telephone number of a nearby operating medical care facility capable of providing emergency medical treatment. This information shall be clearly identified as emergency medical contact information on the display. The agricultural employer shall update the pesticide safety information display within 24 hours of notice of any change to the information on emergency medical care facilities.
In addition, agricultural employers must also provide workers and handlers access to both Safety Data Sheet (SDS) and pesticide application information for applications at the establishment. This requirement will be covered in a seaparate post soon.
For inquiries, contact Pat Hastings by phone at 848-932-0176 or by email at pdh@rutgers.edu.