On June 30th the Pesticide Educational Resources Collaborative (PERC) launched its next resource, "Protect Yourself from Pesticides", a poster satisfying the display requirements o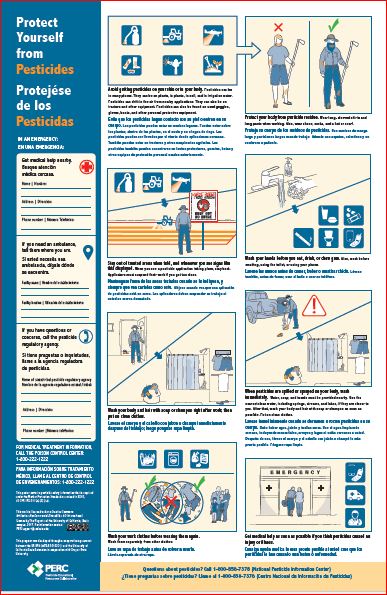 f the revised 2015 Worker Protection Standard (§170.311). Although agricultural employers aren't required to include expanded content in the central display area until January 2, 2018, you may begin using this new poster immediately.
The poster is available on the PERC website in two sizes (11"x 17") and (22"x 34.5"); and in a combination of English and Spanish. Please note that the colors used in the poster were chosen to accommodate readers with color-blindness, and the text was written at a 6th grade literacy level.
The posters may also be downloaded from the PERC website here: http://pesticideresources.org/wps/cp.html
PERC is collaborating with the National Pesticide Safety Education Center (NPSEC) to promote the sale of printed posters to help support pesticide safety education nationally. Later this week you will be able to order and purchase printed copies of the posters here: https://npsecstore.com/. Offerings will include double-sided posters in two languages, lamination, and bundle pricing.
This poster was developed through a cooperative agreement between the EPA and the University of California Davis Extension, in cooperation with Oregon State University (cooperative agreement #X8-83616301).