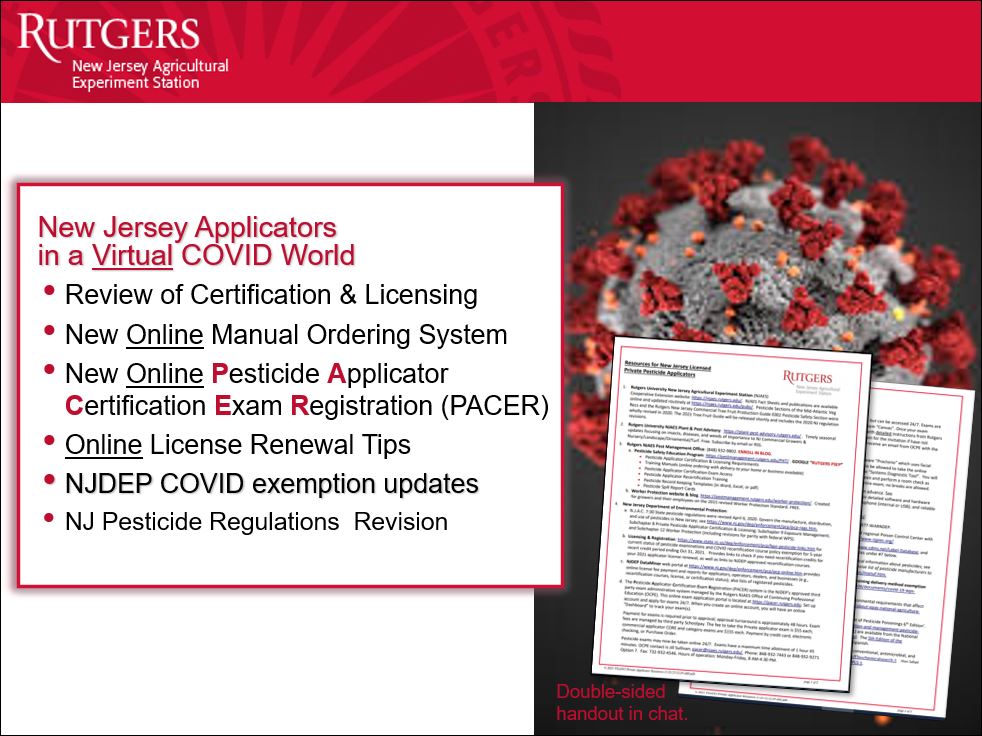 Many processes and and resources for the certification and licensing of New Jersey Private Pesticide Applicators are now available virtually. Today Rutgers Designated Pesticide Safety Education Program (PSEP) Coordinator for the State of New Jersey, Pat Hastings delivered a CORE presentation to private applicators outlining virtual systems and policies that have come on line since last year's VGANJ conference before COVID hit New Jersey. These changes haves been catalogued in the NJAES Plant and Pest Advisory and PSEP blogs beginning March 2020. They have included State and federal Alerts and exemptions in pesticide certification and licensing as well as agricultural worker protection.
Attendees and readers are welcome to download a companion handout VGANJ 2021 Hastings Private Applicator Resources, (PDF) of links and resources to the presentation that was posted to the program chat. This provides specific links and information related to Rutgers NJAES publications and the NJDEP Bureau of Licensing & Registration as well as the Bureau of Compliance and Enforcement.
The NJAES Pesticide Applicator Training website is a comprehensive source of pesticide applicator certification and licensing information for New Jersey applicators. The content of these webpages are continually updated with policy and regulatory changes from the New Jersey Department of Environmental Protection's Pesticide Control Program. It includes a menu of Licensing; New Applicator Training; Pesticide Applicator Training Manuals; Exam Access; Recertification Courses; Records & Forms; and Pesticide Links.
We provided an overview of the April 6, 2020 revisions to the New Jersey Pesticide Control Code at NJAC 7:30. This included that the NJDEP may designate a third party to administer pesticide examinations. The NJDEP has designated the Rutgers Office of Continuing Professional Education (OCPE) to administer exam registration.
Additionally, the New Jersey Worker Protection regulations were revised for parity with the federal 2015 Revised WPS. We referred applicators and agricultural employers to the NJDEP Bureau of Compliance Worker Protection Unit webpage for regulatory information, including DEP-required worker and handler training record templates.
The NJAES Worker Protection website provides a curated selection of key federal WPS resources, as well as Rutgers "Quick- Connect" EPA-approved WPS Training videos that workers and handlers can watch on their mobile devices. Stayed tuned as our Worker Protection website is expanded with new resources tailored to the New Jersey revisions to the WPS, including respiratory protection.
During today's program, we demonstrated:
how to order pesticide manuals at NIAES online;
how to register to take a pesticide exam at the new Rutgers NJAES OCPE Online Pesticide Applicator Certification Exam Registration (PACER) portal;
what to expect during an online pesticide exam administered in Rutgers Learning Management System "CANVAS";
hardware requirements for you to take a pesticide exam proctored by Artificial Intelligence software "Proctorio";
what to expect when you take an online exam;
go to the NJDEP Dataminer website to look up up your recertification credit history and license status; and
the best way to handle your License Renewal Notice in August from the NJDEP when it includes a Pesticide Licensing Invoice for zero dollars .
We distinguished that:
certified applicators must renew their pesticide license every 5 years by processing the invoice they receive for zero dollars
the fastest turnaround for applicator license renewal by NJDEP is online rather than in the mail
the standard NJDEP policy for online recertification credit is a cap of 25% total credits required in the five-year recertification period;
NJDEP issued an exemption from the 25% cap for applicators with licenses expiring in 2021; 100% of their recertification credits can be earned online.
Finally, participants in the session were provided with speaker contact information for future reference:
Pat Hastings
Extension Pesticide Safety Education Program Coordinator for New Jersey
Cooperative Extension
848-932-9802
Direct dial: 848-932-0176