2023 New Jersey Agricultural Convention & Trade Show – Educational Sessions & Workshops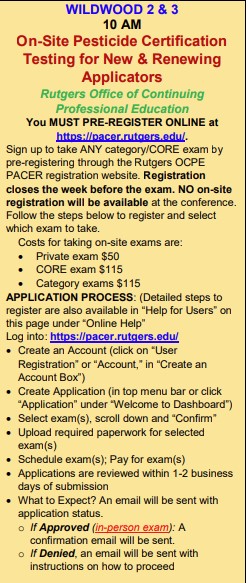 at Harrah's Resort and Waterfront Convention Center, Atlantic City, New Jersey
Date: Thursday, February 9, 2023. TIme: 10 AM.
Location: WILDWOOD 2 & 3
[Examination room (WILDWOOD 2 & 3) sponsored by the Vegetable Growers Association of New Jersey. Exams will be dministered for the New Jersey Department of Environmental Protection by the Rutgers Office of Continuing Professional Education. ]
You MUST PRE-REGISTER ONLINE at Rutgers OCPE PACER https://pacer.rutgers.edu/.
Sign up to take ANY category/CORE exam by pre-registering through the Rutgers OCPE PACER registration website. Registration closes the week before the exam. NO on-site registration will be available at the conference.
Follow the steps below to register and select which exam to take.
Costs for taking on-site exams are:
Private exam $50
CORE exam $115
Category exams $115
APPLICATION PROCESS: (Detailed steps to register are also available in "Help for Users" on this page under "Online Help"
Log into: https://pacer.rutgers.edu/
Create an Account (click on "User Registration" or "Account," in "Create an Account Box")
Create Application (in top menu bar or click "Application" under "Welcome to Dashboard")
Select exam(s), scroll down and "Confirm"
Upload required paperwork for selected exam(s)
Schedule exam(s); Pay for exam(s)
Applications are reviewed within 1-2 business days of submission
What to Expect? An email will be sent with application status, either:
o If Approved (in-person exam): A confirmation email will be sent.
o If Denied, an email will be sent with instructions on how to proceed.
REMEMBER– MANUAL STUDY: Preparation to take the required exams for pesticide applicator certification in New Jersey should include reading and studying the information contained in the training manual(s) specific to the type of certification desired. For information on where to purchase a manual, go to: https://pestmanagement.rutgers.edu/pat/manuals/.
Thank you. If you have any questions, please contact Rutgers OCPE PACER program at 848-932-9271 Option 7 or by email at pacer@njaes.rutgers.edu.