You are invited to participate in a virtual stakeholder meeting for amendments to the New Jersey Pesticide Control Code (N.J.A.C. 7:30). The Division of Water Monitoring, Standards and Pesticide Control is convening a stakeholder meeting to provide an opportunity to share information, and solicit input regarding amendments to the Code.  This meeting is open to all those interested, and will be held via Microsoft Teams. Interaction during the meeting will be through a "Q&A" screen available to type in questions or comments within the Teams format. The meeting will be recorded and available to anyone who cannot attend the meeting or wishes to replay the event, simply by clicking on the meeting link after the meeting has concluded.
There are two topics for upcoming rule amendments:
Recent rule changes by the Federal EPA at 40 CFR Part 171 that increase standards for pesticide applicator certification, and increase training for employees who work under the supervision of licensed commercial applicators.
Recent New Jersey legislation limiting the sale and use of pesticides in the class known as "Neonicotinoids" (P.L. 2021, c.386).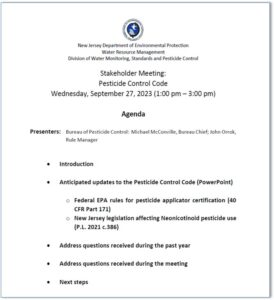 Agenda (pdf)
Thank you for your interest. If you have any questions, please contact the Bureau of Pesticide Control at 609-984-6568 and ask to speak with John Orrok or email John Orrok at john.orrok@dep.nj.gov
Source: Posted to the New Jersey Department of Environmental Protection (NJDEP) Event Website  https://dep.nj.gov/event/stakeholder-meeting-for-pesticide-rules/
For background information on the changes to certification standards, please refer to this Federal EPA link about the 2017 rule: Certification Standards for Pesticide Applicators | US EPA
A copy of the New Jersey statute regulating Neonicotinoids is here: https://pub.njleg.state.nj.us/Bills/2020/PL21/386_.PDF