The New Jersey Department of Environmental Protection and Rutgers University are pleased to announce that the new online Pesticide Applicator Certification Exam Registration (PACER) system is NOW AVAILABLE for your use. Anyone interested in taking a Pesticide exam must register through the PACER system at pacer.rutgers.edu.
The registration PACER system and exams are available 24/7.
All exams will be administered via remote proctoring including real-time student ID verification and activity monitoring to uphold the Department's exam standards and security.
Exam applicants will be assessed a nominal fee for each exam.
All exams are CLOSED book.
The Department no longer offers any pesticide certification exams.
To streamline the pesticide exam process, a new online Pesticide Applicator Certification Exam Registration (PACER) system has been created and is available for your use immediately. Rutgers University, in partnership with the New Jersey Department of Environmental Protection (NJDEP), spent more than a year planning, coding and developing the PACER system and website to replace the time-intensive paper application process, improving the user experience.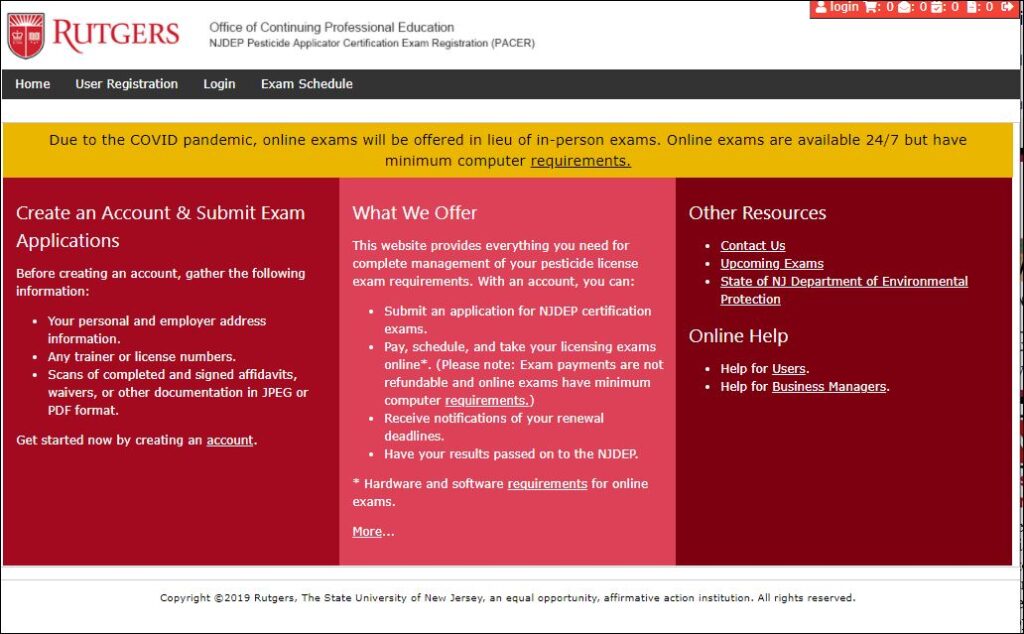 How the new system benefits YOU:
Online Access: Web-based PACER application is accessible 24 hours a day, 7 days a week.
No More Snail Mail: Upload your support documents online and eliminate the time and expense required to mail them.
Quick Review Turnaround: Your application will be reviewed within 48 business hours and you will be notified of any problems or concerns with your documentation promptly via email.
Immediate Exam Scheduling: YOU choose your exam date and location when you register; no more waiting to hear which of your exam date and time choices were available.
Fast Exam Results: See your exam grades within 48 business hours of exam completion.
More Exam Locations: Due to COVID-19, all exams are currently being offered online. When these restrictions are lifted, online exams will continue and in-person exams will resume. For in-person exams, new facilities will be added around the state to give you more options for added convenience.
More Exam Times: Online exams are available 24/7. In-person exams will be administered weekdays, evenings and on Saturdays to better accommodate your schedule.
Manage Others' Exams: Are you responsible for your organization's employees? Now you can easily track and manage exam applications and scheduling for multiple people in PACER!
Support: Responsive, courteous help desk support is available Monday through Friday, 8:00am-4:30pm.
Fees – $115 per each Category exam and the Core exam; $50 per each Private licensing exam*
Pay online via credit card or e-check, with no extra surcharge
Purchase Orders will also be accepted via upload
*This fee covers the costs to sustain hosting and maintenance of the PACER system as well as the dedicated professional application review, customer support, and exam proctoring and administration.
The PACER system and exams are administered by the Office of Continuing Professional Education (OCPE), part of Rutgers Cooperative Extension at the New Jersey Agricultural Experiment Station at Rutgers University. Your user experience is paramount to Rutgers OCPE and we invite you to provide feedback after you have used the new PACER system for your next exam.
---
Announcement per **NJDEP PESTICIDE CERTIFICATION EXAMS Revised ALERT (issued January 11, 2021)**. Details courtesy of Knute Jensen, NJDEP.