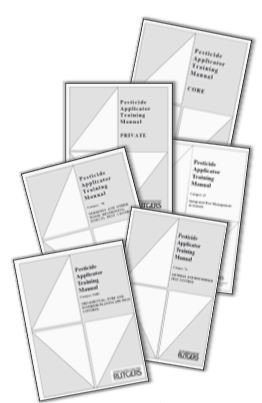 Your Rutgers NJAES Pest Management Office publishes and prints manuals for those studying for certification exams for the New Jersey Department of Environmental Protection's pesticide dealer and applicator licensing exams. See our Pesticide Applicator Training Manuals webpage at https://pestmanagement.rutgers.edu/pat/manuals/ for more details on manuals offered and routine procurement.
Most of the Rutgers County Cooperative Extension offices serve as distribution points for manuals for their clientele; however, this service may be interrupted due to COVID-19 emergency closures.
You can purchase manuals online through the Rutgers Office of Continuing Studies website to have them shipped directly to your door via UPS 2-day delivery to your home or business. If you have not used the system before, set up an account as a "New Registrant" by clicking the "Create Account" button. If you already have an account enter your username and password. After gaining access to the system, click the "Products" button on the left side of the screen, then click the "Pesticide Applicator Training Manuals" heading. You will then be able to select and purchase the manuals you need.
Please Note: when purchasing more than one manual, click "Continue Shopping." The system will take you back to the Search page; click "Products" to view and add another manual(s) to your cart.
If you have any questions regarding online manual ordering, please call the Pest Management Office at 848-932-9802.